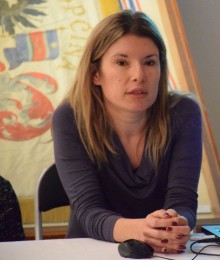 Andrea Radošević, Ph.D. Gives a Talk "Introducing Literacy without Writing" on 169th Thursday of Matrix Croatica
The Centre's associate Andrea Radošević, Ph.D. gave a public talk "Introducing Literacy without Writing" on 3rd November 2016 in the framework of the 169th Thursday of Matrix Croatica, at the Turopolje Museum in Velika Gorica.
In earlier historical periods, when the majority of people were illiterate, any sermon attendance, during which the listeners learned about the fundamentals of religion, would also imply a direct encounter with selected sections from literary works. More specifically, it was customary for the preachers to corroborate any given statement with the citations from those books that were considered as authorities in the entire Christian world, such as the Holy Scripture and the works written by great Church Fathers.
In order to get closer to the common people, they would often finish their sermons with short narrative texts adapted to the receptive capacities of a wider audience. Therefore, preaching inter alia also implied "introducing literacy without writing", i.e. a possibility for virtually uneducated common people, to whom written texts were inaccessible, to learn about biblical events, different interpretations of natural phenomena, about wise sayings and many short stories.
The extent of knowledge that could be transferred in this way was illustrated on the example of medieval collections of sermons written in the Glagolitic script in the 15th and the 16th centuries.