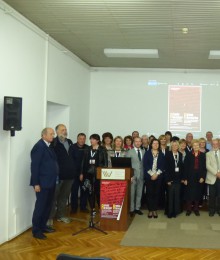 The International Conference Roman Breviaries from the 13th century to the Council of Trent Language, Script, Text, Image, Function, Structure (Pazin, 4 – 7 October 2018)
The conference was organised by Old Church Slavonic Institute (Zagreb), State Archives in Pazin, Associazione Archivistica Ecclesiastica (Roma), Catholic Faculty of Theology, Research centre of Excellence for Croatian Glagolitism.
Conference was held at the State Archives in Pazin, from 4th to 7th October 2018.
This international conference aimed to bring together scholars working in different fields of medieval or early modern studies to discuss topics related to the investigation of the Roman breviaries created under the auspices of the Roman Church in Latin and other languages during the late medieval period. The goal of the interdisciplinary conference was to shed light on the historical development of Roman brevaries before the Council of Trent, their use, language and script, diversity of breviaries's content, elaborate illustrations, margin records and other topics.