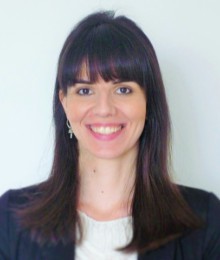 Ana Šimić (née Kovačević), PhD, senior research associate
Old Church Slavonic Institute
Demetrova 11, Zagreb
+385 (0)1 2220025
ana.simic@stin.hr
Professional background
2019 – date: senior research associate at the Old Church Slavonic Institute
2012 – 2019: research associate at the Old Church Slavonic Institute
Winter semester of the academic year 2017/2018: external associate at the Department of Croatian Language and Literature, Faculty of Humanities and Social Sciences, University of Zagreb
Summer semester of the academic year 2011/2012: external associate at the Department of Croatian Language and Literature, Faculty of Humanities and Social Sciences, University of Split
2006 – 2012: junior researcher at the Old Church Slavonic Institute
Academic background
2012: PhD degree from the Faculty of Humanities and Social Sciences, University of Zagreb (dissertation: Negation in the Croatian Church Slavonic language)
2006: Bachelor of Arts in Croatian Language and Literature and Linguistics, Faculty of Humanities and Social Sciences, University of Zagreb
Other academic qualifications
2018/2019, Catholic Faculty of Theology (University of Split): whole-life education program Christian cultural heritage of Split and its surroundings
June 2018, Faculty of Electrical Engineering (University of Ljubljana) seminar Empirical data in linguistics: from research design to data analysis (ReLDI and JANES, Ljubljana)
13-26 September 2015: Chios island, Modern and Ancient Greek Language Summer Course
1 March – 30 June 2014: postdoctoral training at the University of Vienna (Institute for Slavic Studies)
11 – 28 August 2008: Ohrid, International Seminar on the Macedonian Language, Literature and Culture
Research Projects
2014 – to date: The Scientific Ce

ntre

of Excellence for Croatian Glagolitism (Head of the Centre: Milan Mihaljević, PhD)
2014 – to date: 

Theoretical and Applied linguistic research of the corpus of the Croatian Church Slavonic texts with the Dictionary of the Croatian Redaction of Church Slavonic compiling (project leader: Vida Vukoja, PhD)

2013 – 2014: Encyclopaedia of Croatian Glagolitism (project leader: Academician Stjepan Damjanović)
2010 – 2013: Grammar of the Croatian Church Slavonic Language (project leader: Milan Mihaljević, PhD)
2006 – 2013: Dictionary of the Croatian Redaction of Church Slavonic (project leader: Academician Anica Nazor)
Invited lectures
From monk Držiha to the Storm from the north. Faculty of Humanities and Social Sciences (University of Split, May 29, 2018)
How are modern glagolites glagol-ing? Matica hrvatska, Ogranak Velika Gorica. (16. 02. 2017.)
Glagolitic script and glagolitic heritage: from A(z) to (i)Ž(ica). Karl-Franzens-Universität Graz, Institut für Slawistik. (20. 01. 2017.)
Ancient Glagolitic script and modern Glagolites (organized by the Society of friends of the Glagolitic script and the Archdiocesan Pastoral Institute under the project Croatian Glagolitic Heritage. Zagreb, 14. 12. 2016.)
Duplex negatio negat in Croatian (Church Slavonic): a historical and cross-linguistic perspective. Linguistisches Forum an der Universität Regensburg (18. 05. 2016).
Activites
Participation at Symposia
Naked are nations without books, Prague, February 28 –  March 1 2019. (Three more paradoxes of the Cyrillo–Methodian mission (the post-mission period perspective)).
Rimski brevijari od 13. stoljeća do Tridentskoga sabora: jezik, pismo, tekst, slika, funkcija, ustroj, Pazin, 4 – 7 October 2018 (Small chapters in the Second Beram breviary, co-authored by J. Vela)
Diachronic Slavonic Syntax 3: Traces of Latin, Greek and Church Slavonic in Slavonic Syntax, Salzburg (Austria), November 3-4, 2017 (Croatian Church Slavonic non-strict negative concord proper in the light of Latin source texts:The Second Beram Breviary case study)
Fenomen glagoljice, Biograd – Zadar, 12. – 13. 05. 2017. (Glagolitic inscriptions on the human skin)
International Symposium on Verbs, Clauses and Constructions. Logroño, 26-28 October 2016. (The history of non-verbal constructions with demonstrative identifiers in Croatian)
Knjiga i društvo: socijalna, filološka i intelektualna povijest i sadašnjost knjige. Split, 29 - 30 September 2016. (The Glagolitic Book and Medieval Society: An Inception of the Democratization of Literacy and Learnedness in Croatia)
Crkvenoslavenska i hrvatska povijesna leksikografija. Zagreb, 29.06.- 01.07.2016. (Research challenges of the Dictionary of the Croatian redaction of Church Slavonic compiling, co-authored by M. Klenovar and J. Vela)
48th Annual Meeting of the Societas Linguistica Europaea. Leiden, 2 – 5 September 2015 (Negative concord varieties in early Slavic: The case of Croatian Church Slavonic)
5. Hrvatski sintaktički dani. Osijek, 7 – 9 May 2015. (Lexical quantification in the Croatian Glagolitic texts)
Šesti hrvatski slavistički kongres. Vukovar i Vinkovci, 10 – 13 September 2014 (Između pragmatike i gramatike: izbor aspekta u oblikovanju imperativa, co-authored by Z. Kolaković)
Glagoljska tradicija u povijesti slavenske pismenosti. Zagreb, 21 – 27 October 2013 (Neki novi glagoljaši)
Trećoredska glagoljaška tradicija u europskom kontekstu. Zagreb, 27 – 28 September 2013 (Žena, majka, kraljica: sv. Elizabeta Ugarska u hrvatskoglagoljskim brevijarima)
Осмиот научен собир на млади македонисти. Скопје, 16 – 18 May 2013 (Leksemi s predmetkom "bez-" u makedonskom crkvenoslavenskom jeziku)
Lovran u riječi, riječ u Lovranu. 20 April 2013 (Zapažanja o sintaksi Kvaderne kapitula lovranskoga, co-authored by L. Turkalj)
Hrvatski sintaktički dani. Osijek, 8 – 10 November 2012 (Red riječi i negacija u hrvatskome crkvenoslavenskome jeziku)
Hrvatsko glagoljaštvo u europskom okružju. Krk, 5 – 6 October 2012 (Sveze s leksemima kruhь i hlêbь u hrvatskoglagoljskim tekstovima)
6. Научен собир на млади македонисти. Скопје, 18 – 20 December 2008 (Čestica ne li u hrvatskom i makedonskom crkvenoslavenskom, co-authored by L. Turkalj)
12. Međunarodni skup slavista. Opatija, 22 – 25 June 6. 2007 (Uzvici u hrvatskoglagoljskim tekstovima)
Memberships
Croatian Philology Society
Societas Linguistica Europaea
Boards, councils, comitees
Member of the Management Board of the Old Church Slavonic Institute
Member of the Scientific Council of the Old Church Slavonic Institute
Member of the Editorial board of the journal Slovo
Member of the Organisation Commitee of the international conference Church Slavonic and Croatian historical lexicography (Zagreb 29 June – 1 July 2016)
Member of the Organisation Committee of the international conference Glagoljska tradicija u povijesti slavenske pismenosti (Zagreb 21 – 27 October 2013)
Bibliography (selection)
2019. Šimić, Ana. Non-verbal clauses with demonstrative identifiers in the history of Croatian. Fluminensia 31/1: 85–101.
2018. Šimić, Ana, Jozo Vela. Dijakronijska analiza odnosa vida i pravoga jednostavnoga niječnog imperativa u hrvatskom jeziku. Fluminensia 30/2: 171–188.
2017. Šimić, Ana. Mikrostruktura i istraživački izazovi obrade Rječnika crkvenoslavenskoga jezika hrvatske redakcije. Filologija 69: 99–128.
2017. The Agreement between Conjoined Subjects and Predicate: Croatian Church Slavonic Corpus Analysis. Slověne (Vol 6, No1), 148–170.
2016. Negacija od čestice do teksta. Usporedna i povijesna raščlamba negacije u hrvatskoglagoljskoj pismenosti. (Zagreb, 2016, Staroslavenski institut)
2015. Žena, majka, svetica: Elizabeta Ugarska u latinskim i hrvatskoglagoljskim izvorima. Radovi Zavoda za hrvatsku povijest Filozofskoga fakulteta Sveučilišta u Zagrebu 47/1, 309-335.
2014. Marija Klenovar, Ana Kovačević, Milan Mihaljević, Jozo Vela, Jasna Vince, Vida Vukoja. Rječnik crkvenoslavenskoga jezika hrvatske redakcije, sv. 20. (žrьtva – zapovêdnica). Zagreb: Staroslavenski institut.
2014. Ana Kovačević. Prilozi. Uzvici. Čestice. Hrvatski crkvenoslavenski jezik (Zagreb: Hrvatska sveučilišna naklada, Staroslavenski institut)
2014. Ana Kovačević. Nepromjenjive riječi u "Činu svetac" Kožičićeva "Misala hruackoga". Ricerche slavistiche 58; 163-184.
2013. Ana Kovačević. Red riječi i negacija u hrvatskome crkvenoslavenskome jeziku. Rasprave: Časopis Instituta za hrvatski jezik i jezikoslovlje 39; 497-508.
2010. Ana Kovačević, Milan Mihaljević, Sandra Sudec. Hrvatski crkvenoslavenski prijevod tekstova sv. Tome Akvinskoga. Slovo 60; 359-476.
CROSBI: bib.irb.hr
Peer-reviews
Filologija
Fluminensia
Slovo
Suvremena lingvistika
Rasprave: Časopis Instituta za hrvatski jezik i jezikoslovlje
Croatica: časopis za hrvatski jezik, književnost i kulturu
Awards and distinctions
Annual award of the Croatian Academy of Sciences and Arts for the highest scientific and artistic achievements in Croatia in 2016, in the field of philology (2017)
Ernst Mach grant – worldwide (2014)
TOP scholarship for TOP students (2004)