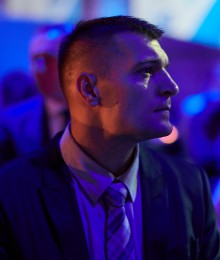 Antonio Magdić, dipl. ing.
Superfluo d.o.o.
XIV. Trokut 10, Zagreb
00385 99 5853 857
antonio@superfluo.hr
Research interests
I have fifteen years experience in software design and development specializing in Internet application. I am proficient in a wide variety of languages and software including PHP development and database programming and design. Furthermore, I have experience with the various stages of software development life cycle including being involved with extreme programming XP techniques.
Professional background
2018 – to date: CEO, project manager, web developer, Superfluo d.o.o.
2013 – 2018: senior expert associate, Old Church Slavonic Institute
2007 – 2013: expert associate, Old Church Slavonic Institute
2007 – 2014: assistant, Faculty of Mechanical Engineering and Naval Architecture, University of Zagreb (giving lectures for the course: Web Design)
Academic background
1998 – 2007 – Bachelor of Mechanical Enginereing, Faculty of Mechanical Engineering and Naval Architecture, University of Zagreb (graduation thesis: Generiranje interaktivnih tehničkih shema, Zagreb, Faculty of Mechanical Engineering and Naval Architecture, 22 November 2007, pp. 107, mentor: Mario Essert)
Research projects
2014 – to date: The Scientific Centre of Excellence for Croatian Glagolitism (Head of the Centre: Milan Mihaljević, PhD), digitalisation collaborator
2007 – 2013: Glagolitic palaeography, Old Church Slavonic Institute (project leader: Marica Čunčić, PhD)
Awards
2002: Rector's Award, University of Zagreb
Bibliography
Magdić, Antonio.
Kako je digitalizirana građa Staroslavenskoga instituta // Hrvatsko glagoljaštvo u europskom okružju / Badurina Stipčević, Vesna ; Požar, Sandra ; Velčić, Franjo (ur.). Zagreb : Staroslavenski institut, 2015. 167-206 (predavanje,međunarodna recenzija,objavljeni rad,stručni).
Čunčić, Marica; Magdić, Antonio; Mokrović, Ljiljana. Rapski odlomak glagoljskoga misala iz 15. st. // Rapski zbornik II / Andrić, Josip ; Lončarić, Robert (ur.). Rab: Ogranak Matice hrvatske, 2012. 291-302.
Sarić, Ivana; Magdić, Antonio; Essert, Mario. Sheme metapodataka značajne za knjižničarstvo s primjerom impelementacije OpenURL standarda. // Vjesnik bibliotekara Hrvatske. 54 (2011), 1; 134-157.
Sarić, Ivana; Magdić, Antonio; Essert, Mario. ZOTERO – program otvorenog koda za upravljanje bibliografskim bilješkama. // Vjesnik bibliotekara Hrvatske. 54 (2011), 1; 158-171
Radošević, Andrea; Magdić, Antonio. Hrvatskoglagoljski misali i brevijari u bibliografijama od 19. stoljeća do digitalizacije. // Slovo : Časopis Staroslavenskoga instituta u Zagrebu. 59 (2009); 231-282
Mokrović, Ljiljana; Magdić, Antonio. Izvori - dio građe Staroslavenskoga instituta na intranetu. // Slovo : Časopis Staroslavenskoga instituta u Zagrebu. 59 (2009); 283-312
Čunčić, Marica; Magdić, Antonio. The Scientific Program of the Old Church Slavonic Institute, Zagreb, Croatia // Proceedings of the International Conference Slovo: Towards a Digital Library of South Slavic Manuscripts / Miklas, Heinz ; Miltenova, Anissava (ur.). Sofia : Bulgarian Academy of Science, Institute of Literature, Boyan Penev Publishing Center, 2008. 265-280 (invited lecture).
Magdić, Antonio; Tomić, Teodor; Mauser, Bojan; Essert, Mario. Interactive visual aids for training and knowledge testing // MITIP 2008 - 10th International Conference on The Modern Information Technology in the Innovation Processes of the Industrial Enterprises / Han, Jan ; Holejsovska, Pavla (ur.). Pilsen, Češka : Bily slon, s.r.o. Press, 2008. 206-210
Magdić, Antonio; Katalenić, Anđelko; Essert Mario; Mauser Bojan. WEB Exams – Knowledge Testing Using Educational WEB Collaboration System // Proceedings of the 17th International Conference on Information and Intelligent Systems / Aurer, Boris; Bača, Miroslav (ur.). Varaždin: Faculty of Organization and Informatics, 2006. 419-422
Magdić, Antonio; Žilić, Tihomir; Essert, Mario; Šitum, Željko; Stanković, Mario. The Simulation Toolbox for Distance Learning // Proceedings of the 17th International Conference on Information and Intelligent Systems / Aurer, Boris; Bača, Miroslav (ur.). Varaždin: Faculty of Organization and Informatics, 2006. 219-223
Žilić, Tihomir; Magdić, Antonio; Essert, Mario. Publishing HTML and LaTeX on-line documents // Proceedings of the 16th International Conference on Information and Intelligent Systems / Aurer, Boris ; Bača, Miroslav (ur.). Varaždin : Faculty of Organization and Informatics Varaždin, 2005. 35-40
Mauser, Bojan; Magdić, Antonio; Essert, Mario. Writing on-line mathematical documents // Annals of DAAAM for 2004 & Proceedings of the 15th International DAAAM Symposium "Intelligent manufacturing & automation: globalisation - technology - men - nature" / Katalinić, Branko (ur.). Vienna: DAAAM International
CROSBI: bib.irb.hr