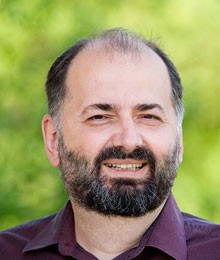 Mateo Žagar, PhD, professor
Chair of Old Church Slavonic Language and Croatian Glagolitism
Department of Croatian Language and Literature
Faculty of Humanities and Social Sciences, University of Zagreb
Ivana Lučića 3, Zagreb
+385 (0)98 1354535
mzagar@ffzg.hr
www.ffzg.unizg.hr
Areas of research interest
Glagolitic and Cyrillic palaeography, Croatian Church Slavonic Language, pre-standardisation period of Croatian language
The basic area of research interest of Mateo Žagar, PhD directly related with the activites planned within the newly-founded Scientific Centre of Excellence for Croatian Glagolitism are palaeographic studies into the Croatian Glagolitic script. His doctoral dissertation was entitled: "Osnovne smjernice grafetičkog uređivanja hrvatskoglagoljskih tekstova XII. i XIII. st." (2000), which offered the possibility of contemporary palaeographic analysis of the oldest Croatian Glagolitic texts, based primarily on the linguistic perspective. The theoretical frameworks of such approach were published in the book entitled: "Grafolingvistika srednjovjekovnih tekstova" (2007), and a detailed analysis of the oldest Glagolitic texts of Macedonian, Bulgarian and Czech origin, with indications of the first appearances in the Croatian territory, was outlined in the book entitled: "Uvod u glagoljsku paleografiju 1 (X. i XI. st.)". The methodological patterns applied on the old texts and on the oldest Croatian texts in which tendencies can be seen towards the establishment of a special Croatian type of the Glagolitic script, know under the name of "angular" or "unical" (minuscule) Glagolitic script, and its final establishment in the 13th century, are the basic assumptions for the analysis of and the application of knowledge to the manuscript sources of the Beram Scriptorium School.
Professional background
Faculty of Humanities and Social Sciences, University of Zagreb: junior assistant (1991), assistant (1993), assistant professor (2002), associate professor (2006), professor (2010)
Academic background
1990: Bachelor of Arts in Croatian Language and Yugoslav Literatures
1993: Master of Arts; Master's thesis: "Koherencija natpisa Bašćanske ploče"
2000: PhD degree; dissertation: "Osnovne smjernice grafetičkog uređivanja hrvatskoglagoljskih tekstova XII. i XIII. st"
Research projects
Collaborator on the project: "Encyclopaedia of Croatian Glagolitism" 2007 – 2013 (project leader: Academician Stjepan Damjanović)
Activities
Conference participation (selection)
"Die glagolitische Schriftreform des 13. Jahrhunderts im Kontext der lateinischen Schriftreform"; Conference: Dalmatien als europaeischer Kulturraum, Bonn, October 2003
"Grafija hrvatskoglagoljskih tekstova XIV. st. između grčkih temelja i latinskih slojeva (na primjeru Regule Svetog Benedikta)"; Conference: "Vizantija i slavjanite", Sofia, 12 – 14 May 2006; Godišnik na Sofijskija universitet "Sv. Kliment Ohridski" and Cent'r za slavjano-vizantijski proučvanija "Ivan Dujčev", Sofia, 2011, 333–342.
"Paleografske smjernice glagoljske epigrafike u znanstvenom djelu Branka Fučića"; Scientific Conference as a Tribute to Branko Fučić, Malinska–Rijeka–Zagreb, 2011, 621–626.
"Zadaci i perspektive istraživanja jezika glagoljskih tiskanih izdanja Šimuna Kožičića Benje"; Scientific Conference "Šimun Kožičić Benja and his Glagolitic Printing House in Rijeka", Rijeka, 16 September 2011
 "Prinos tipologiziranju pisma i pisanja dubrovačkih srednjovjekovnih ćiriličkih isprava"; Congress of Slavists in Minsk, 20 – 26 August 2013 (edited by: Marija Turk), Croatian University Press and Croatian Philological Society, Zagreb, 2013, 25–35.
Conference organisation
Scientific Symposium as a Tribute to the 70th Birtday of Academician Josip Bratulić, Central Croatian Cultural and Publishing Society, Zagreb, 2010: chief organiser
Scientific Symposium as a Tribute to the 65th Birthday of Academician Stjepan Damjanović, Faculty of Humanities and Social Sciences, Zagreb, 2011: chief organiser
Scientific Conference "Croatian Cyrillic Heritage", Croatian Academy of Sciences and Arts, Zagreb, 2012 – member of the Organising Committee of the Scientific Conference: "Trans-Mission of Croatian Language and Literature", Poznanj, 2013 – initiator and member of the Organising Committee
Lectures at foreign universities
Budapest, 1994 and 2011; Udine, 1998; Ljubljana, 1997, 1999, 2000; London, 2001; Würzburg, 2002; Heidelberg, 2003; Oslo, 2008; Graz, 2008; Tuzla, 2010; Rome, 2012; Skoplje, 2013; Kopenhagen, 2013; Vienna, 2013 and Florence, 2014
Popularisation of science
A number of lectures on the Glagolitic script and the Croatian book heritage  (Dubrovnik, 1995; Daruvar, 2006; Čazma, 2006; Virovitica, 2007, Podravska Slatina, 2007; Vinkovci, 2008: Bjelovar, 2014)
Awards and distinctions
2008: Winner of the Annual Science Award of the Croatian Academy of Sciences and Arts for the book: "Grafolingvistika srednjovjekovnih tekstova" (Central Croatian Cultural and Publishing Society, 2007)
2014: Winner of the National Science Award of the Republic of Croatia
Membership
Member of the Croatian Philological Society
Member of the Central Croatian Cultural and Publishing Society
Associate member of the Croatian Academy of Sciences and Arts
Editorial Boards
Member of the International Scientific Council of "Richerche slavistiche" journal (ed. Mario Capaldo) since 2008
Member of the Management Board of the Old Church Slavonic Institute since 2008
Bibliography (selection)
Žagar, Mateo: "Neke grafetičke osebujnosti u najstarijim hrvatskoglagoljskim tekstovima (s posebnim obzirom na raspored bjelina)", u: Zbornik radova "Glagolitica: Zum Ursprung der slavischen Schriftkultur", Verlag der Österreichischen Akademie der Wissenschaften, philosophisch-historische Klasse, Schriften der Balkan-Kommission (ur. Heinz Miklas), Beč 2000, 164-174
Žagar, Mateo: "Ortografija natpisa Bašćanske ploče", Krčki zbornik, svezak 42, posebno izdanje 36, Rijeka-Baška 2000, 211-225.
Žagar, Mateo: "Hrvatskoglagoljske ligature XII. i XIII. st.", Dometi 7-12, godina IX – 1999, Rijeka 2000, 39-45
Žagar, Mateo (s Nikom Kapetanićem): "Najjužniji hrvatski glagoljski natpis", Anali Zavoda za povijesne znanosti HAZU, sv. XXXIX, Zagreb-Dubrovnik 2001, 9-48
Žagar, Mateo: "Grafetičke funkcije jerova u najstarijim hrvatskoglagoljskim fragmentima", u: Zbornik Drugog slavističkog kongresa / Sesar, Dubravka (ur.), Zagreb : Hrvatsko filološko društvo, 2001, 309-318
Žagar, Mateo: "Karakteristična grafijska rješenja u Muci Hrvojeva misala" u: Muka kao nepresušno nadahnuće kulture, Zbornik radova međunarodnog znastrvenog simpozija, Zadar-Preko 2000, Zagreb 2001, 231-248
Žagar, Mateo: "Punktuacija u najstarijim hrvatskoglagoljskim tekstovima". // Croatica. Prinosi proučavanju hrvatske književnosti. XXX (Zagreb 2002 - godina izlaska iz tiska; 2000. - godina na koricama), 31-65
Žagar, Mateo: «Osnovni procesi konstituiranja ustavne glagoljice", u: B'lgari i H'rvati prez vekovete, Božilova, Rumjana (ur.) Sofija 2003, 31-42
Žagar, Mateo (s Milanom Paunom): "Slavonski glagoljski natpisi", u: Zbornik sa znanstvenog skupa Glagoljica i hrvatski glagolizam, održanog u Krku 2002, Zagreb 2004, 271-284
Žagar, Mateo. «Jezikoslovni temelji paleografije: glagoljičko motrište",  u: Drugi Hercigonjin zbornik / Damjanović, Stjepan (ur.), Zagreb 2005, 23-42
Žagar, Mateo: «Grafolingvistika i stari tekstovi: osebujnosti pisanog jezika" , u: Od fonetike do etike (zbornik), Pranjković, Ivo (ur.). Zagreb 2005, 223-258
Žagar, Mateo: «Grafolingvistički opis Bečkih listića», u: Raukarov zbornik, Budak, Neven (ur), Zagreb 2005, 637-650
Žagar, Mateo: Rešetarove paleslavističke teme: s margina, u: Zbornik o Milanu Rešetaru, Maštrović, Tihomil (ur.), Zagreb 2005, 295-304
Žagar, Mateo: «Struktura Jagićeve glagoljske paleografje», u: Zbornik o Vatroslavu Jagiću, Hrvatski književni povjesničari, Znanstveni zbornici 10/1; Hrvatski studiji Sveučilišta u Zagrebu, Zagreb 2007, 117-128
Žagar, Mateo: «Grafetičke posebnosti tekstova istočne grane hrvatskoga glagoljaštva», u Slovo 56-57 (Zbornik Anice Nazor); Zagreb 2008, 695-708
Žagar, Mateo: «Ustanovljivanje kurzivne glagoljice u XIV. st», u: Vidjeti Ohrid, Referati hrvatskih sudionica i sudionika na XIV. međunarodnom slavističkom kongresu (ur. Marko Samardžija), Ohrid, 10-16. rujna 2008, Zagreb 2008, 141-170
Žagar, Mateo: "Die glagolitische Schriftreform des 13. Jahrhunderts im Kontext der lateinischen Schriftreform", Dalmatien als europaeischer Kulturraum (ur. W. Potthoff, A. Jakir, M. Trogrlić, N. Trunte), Split 2010, 163-180
Žagar, Mateo: "Reforma glagoljičkog pisanja u 13. stoljeću u svjetlu latiničkih reformi", Knjige poštujući, knjigama poštovan, Zbornik o 70. rođendanu Josipa Bratulića, Zagreb 2010, 171-183
Žagar, Mateo: «Grafija hrvatskoglagoljskih tekstova XIV. st. između grčkih temelja i latinskih slojeva (na primjeru Regule Svetog Benedikta)», u: Zbornik radova s međunarodnog znanstvenog skupa «Vizantija i slavjanite», Sofija 12-14 svibnja 2006; Godišnik na Sofijskija universitet "Sv. Kliment Ohridski" i Cent'r za slavjano-vizantijski proučvanija "Ivan Dujčev", Sofija 2011, 333-342
Žagar, Mateo: "Paleografske smjernice glagoljske epigrafike u znanstvenom djelu Branka Fučića", Az grišni diak Branko pridivkom Fučić, Zbornik sa znanstvenoga skupa u čast Branku Fučiću, Malinska-Rijeka-Zagreb 2011, 621-626
Žagar, Mateo: "Hrvatska pisma u srednjem vijeku" u: Povijest hrvatskog jezika, ur. Bićanić, Ante (ur), Zagreb 2009, 107-220
Žagar, Mateo: "Prinos tipologiziranju pisma i pisanja dubrovačkih srednjovjekovnih ćiriličkih isprava", A tko to ide, prilozi hrvatskih slavista na Međunarodnom slavističkom kongresu u Minsku, 20-26. 8. 2013 (ur. Marija Turk ), Hrvatska sveučilišna naklada i Hrvatsko filološko društvo, Zagreb 2013, 25-35
Žagar, Mateo: "Slovopis i ortografija u glagoljičkom Novom testamentu (1562): načela latiničkog prijepisa", u: Matak Dragutin (ur),Novi testament S. Konzula i A. Dalmatina, Zagreb 2013, 487-493
Žagar Mateo: "Hrvatska pisma i pravopisi u 17. i 18. st.", Povijest hrvatskoga jezika, 3. knjiga: 17. i 18. stoljeće, (ur. Ante Bićanić), Zagreb 2013, 343-370
CROSBI: bib.irb.hr